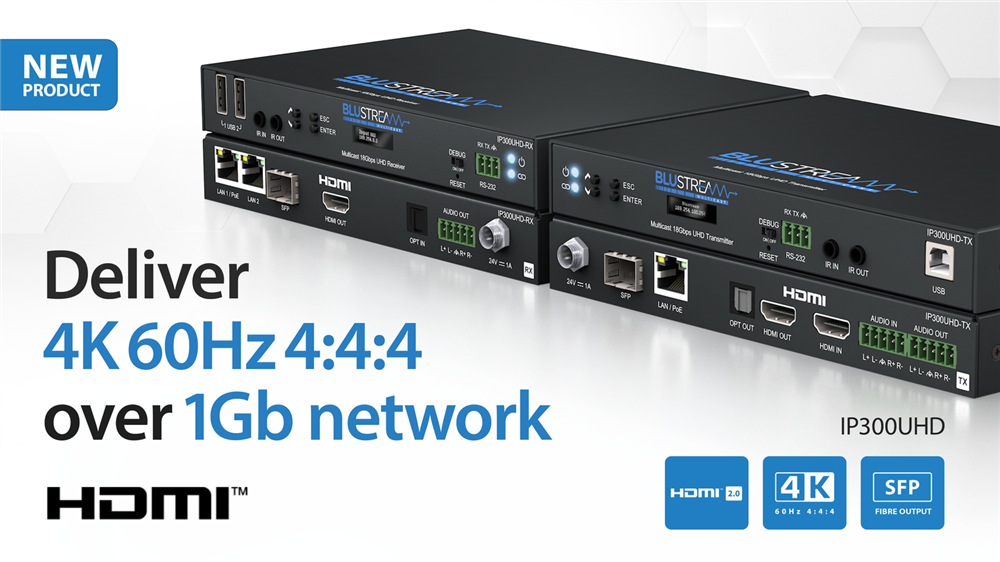 We are pleased to announce the launch of our latest IP300UHD Video over IP platform. For the first time our parters can cost effectively specify 4K 60Hz 4:4:4 over a 1Gb network.
The Blustream IP300UHD Video over IP platform allows virtually latency free (1 frame) distribution of 4K 18Gbps HDMI video over a 1Gb managed network. The IP300UHD is an industry leading 4K HDCP 2.2 HDMI platform that, using visually lossless compression technology, delivers 18Gbps HDMI, audio, bi-directional IR, RS-232 & USB/KVM up to lengths of 100m over standard copper network architecture, or greater distances using the in-built fibre SFP network interface. The IP300UHD features a second RJ45 LAN port for daisy chaining the HDMI signal onto further IP300UHD units.
With a full 18Gbps HDMI scaling chipset on-board, the HDMI output can be adjusted to lower resolutions where legacy displays are required in the same system as full 4K. The scaling capabilities of this unit also allow for videowalls to be created where required. The units can be powered via PoE from the network switch, or locally should the switch not support PoE. With multiple configuration options available, the flexibility of the Blustream IP300UHD platform makes this product ideal for the majority of installation environments.
Contact your local distributor today for more information.